Microenterprise grants can help small businesses expand in North Tonawanda
Also, Boy Scout project is looking to rehabilitate neglected pavilion near Mayor's Park.
If you're a small business owner in North Tonawanda looking to hire additional employees, there's a grant program that could help you.
Lumber City Development's Michael Zimmerman (above) made a brief presentation before Tuesday's council work session regarding the city's participation in the NYS Microenterprise program.
To qualify as a microenterprise, the business must have five or less employees. Grant money, which in past years has ranged from $5,000 to $25,000, can be spent on business equipment but not employee salaries. The goal is to use that capital investment to hire "low-to-moderate-income" workers.
Areas that will receive priority include the Oliver Street corridor, downtown, businesses that promise a large number of hires, or a business that delivers essential goods and services to a previously underserved area.
The city is requesting $200,000 — the maximum amount — from the state-funded program. Lumber City would receive $30,000 of that amount for administrative duties. Zimmerman said there is quite a bit of work on Lumber City's end in the application process as well as the monitoring of the grant. Participants in the program are determined solely by the state.
There is also $35,000 left from the previous year, he said.
Applications are due by the end of the month, he said.
Zimmerman also talked about another $90,000 grant the city received to help residents who might be in danger of foreclosure on their home.
Lumber City only received one proposal from a local housing specialist to help implement the program.
Zimmerman also mentioned there's been interest to buy a city-owned property at Walck Road and Erie Boulevard. The one-acre parcel "has a lot of value but for the longest time there was no takers," said Council President Eric Zadzilka.
"With Ivy Lea there, it's a lucrative place for a business," said Mayor Arthur Papps.
Zimmerman said he could not disclose who was interested in the property at this time.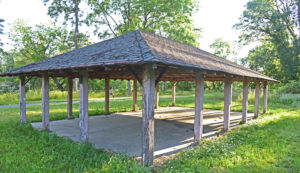 Additionally, the council heard a proposal from Boy Scout Kyle Nickerson to rehab a neglected pavilion along the city's bike path next to Mayor's Park and the Erie Canal.
He's looking for paint and shingles to fix up the structure, which the mayor said was worth saving. The efforts of the DPW would also be employed to haul away the removed shingles.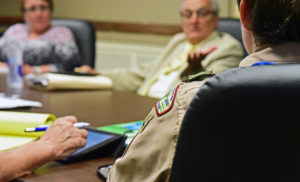 City Engineer Dale Marshall was at the meeting and said this project could dovetail off of others since the city and the Canal Corporation installed a bike path there. "That whole shoreline could be incorporated," Marshall said.
Nickerson said he'd like to start the project late summer or early autumn.
The mayor said projects like this demonstrate that the city is focusing its development efforts in all parts of the city — and not just downtown.