Outdoor art project on Oliver Street will be completed by summer's end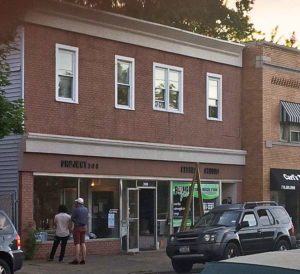 There is a hidden jewel in the heart of North Tonawanda's Oliver Street business district called the Project 308 Art Gallery (above).
On Saturday, the gallery played host to an event to raise money to have a large piece of artwork created that is intended to adorn the side of a building near the gallery at 308 Oliver St.
Natalie Brown, NT native and a graduate of U.B.'s masters degree program, is the gallery's founder and owner.
Brown said she became involved with the arts by studying art history and museum studies for graduate school.
Brown said it's important to have top-quality artists involved with her creative endeavors. "I feel very fortunate to have arranged to have two wonderful artists create this future project, Christopher Kameck and Nicholas Miller. It is truly a pleasure and it's delightful to have them on board for this artist venture. I look forward to the honor of working with two such exemplary artists."
Kameck echoed the sentiment about working with Brown. "I'm thrilled and privileged to be involved in this endeavor because I am confident it will add to the beautification and quality of life factors of this neighborhood, the city of North Tonawanda and also Western New York."
The art project — which was described as an abstract design to be placed on the side of a building near the gallery and the corner of Schenck and Oliver Street — is projected to be completed by the end of the summer.