Zach Niemiec, Matthew Kennedy elected to NT school board; budget passes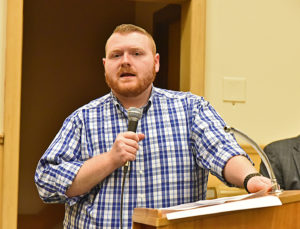 Zach Niemiec (above) wins his seat on the NT school board with 581 votes as well as Matthew Kennedy with 479.
Additionally, the 2017-18 NT school district budget passed with 774 votes for and 445 votes against. School board incumbent Barbara McCarthy received 399 votes; Elizabeth Sanderson, 377; and Bonnie Litten-Shiesley, 353.
Niemiec at 24 is possibly the youngest board member ever elected in North Tonawanda.
"I think voters connected with me because I was honest with them," Niemiec said. "I told them that we needed more more programs from students – however I told them I couldn't vote for a budget that didn't have a way to pay for it. I don't want to place things solely on the tax payers."
As to why he won his seat on the board, Kennedy said: "I have been very active within the district since my graduation in 2009. I have been fortunate enough to meet many residents along the way. The residents that I have spoken to know that my number one goal is putting the education of our students as the top priority. I will continue to be available to the public for input and comment during my term. I do not take this responsibility lightly and will work everyday to make our district proud."
NT common council candidate Austin Tylec weighed in on the school-board elections:
"All of the candidates were great. They all showed qualities that would make them well suited for the job. Zach and Matt winning shows that people want a new generation of leaders. We need to start encouraging new people to take office, that will hopefully represent our city as they climb the political ladder."