Lockport's Shirley Nicholas is an "Environmental Champion"; E.P.A. bestows award, mayor will honor June 7th
Niagara County native is one of only a few here that have won the "Environmental Champion" award from the E.P.A.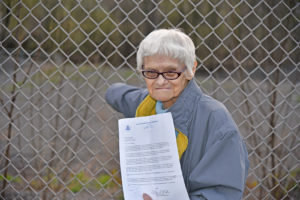 In her battle to tear down and remediate the heavily contaminated site at the Flinkote plant on Mill Street in Lockport, Shirley Nicholas has encountered push-back from politicians and frustration from their inaction.
"Chris Collins. I'd like to call him a dirty name," said Nicholas, who rarely minces words.
The incident she's referring to occurred when residents from Water Street — who were suffering in the shadow and watershed of the dangerous abandoned industrial site — went to the congressman's office in Buffalo to seek his help and support.
"We needed to get these people moved," she said. "But he sent in one of his agents and got absolutely nothing from him."
"It was Kathy Hochul and Charles Schumer that got Flintkote fixed," Nicholas said.
"There isn't a Republican in this county that will do a thing about the contamination here. And I'm a Republican."
Her desire to see changes at the Flintkote site across the street from her home — and feeds directly into 18-Mile Creek and Lake Ontario — started when a girl fell from a 30-foot water tower.
After hearing cries for help, her husband Nick — who's an EMT — ran from their house and found the girl.
"If we had let her walk home she would have died because her jaw was bleeding internally."
That's when Nicholas approached then-mayor Michael Tucker about dismantling the tower, which was unsecured and a magnet for Lowertown kids.
"Another day I saw four boys playing on the top of the tower. One slip and you wouldn't have called the ambulance; you would have called a hearse."
Tucker's response: "We don't own it. Go to the county. We don't have any money," Nicholas said.
Getting nowhere with the county as well, Nicholas listened to the advice of Lockport resident and friend Jean Kinney who said Hochul was visiting radio station WLVL.
"I'm not going; she's a Democrat," Nicholas said. "She won't listen to me. But when Jean says, 'Get your stuff!' she means it. You listen."
"Not only did Kathy take the information, she's the one who got it on the Superfund list. When I went to city hall and told Tucker he said, 'Big deal! It will be 40 years before anything is done.'"
Two years later the project started, and after four, the site was remediated.
More recently, a few blocks down the street, an underground 15,000-gallon oil tank containing toxic heating fuel was removed in January by the DEC. Nicholas was also involved in that effort, and she repeatedly thanked Alderman-at-Large Joe O'Shaughnessy for his direct intervention with the state agency. "It would have never gotten done without him," she said.
For her efforts in engaging elected officials and the public on the behalf of her neighbors and everyone else connected to 18-Mile Creek, E.P.A. Region 2 is bestowing upon her its "Environmental Champion Award."
The award is for those who demonstrate "an outstanding commitment to protecting and enhancing environmental quality and public health."
Along with roughly 40 other recipients from Region 2 (which includes New York, New Jersey, Puerto Rico, the US Virgin Islands and 8 federally recognized tribal nations), Nicholas is invited to the awards ceremony May 19th in New York City. However, because she has to care for her husband Nick — who recently suffered irreversible brain damage due to a home oxygen-machine malfunction — she said she most likely won't be attending.
As a recipient, she's one of just a few from Niagara County that have ever been given the award.
And there's still so much work to be done in Lockport, she said a day before her 80th birthday.
"There's more than 20 contaminated sites that we know about in Lockport," she said.
At the top of "Shirley's List" is Upson Park as well as the abandoned Simonds Steel site, which was involved in the Manhattan Project and is said to be highly contaminated with radioactive materials from the WWII-era project.
"And with all the pollution there, Upson Park should have a fence around it," Nicholas said.