City releases street-paving list for NT; new muscle added
"This is not a finalized, detailed list of roads that are actually going to be done this year," said Peter Drossos, Administrative Assistant to Mayor Arthur Pappas.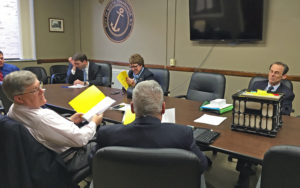 The City of North Tonawanda released on Tuesday the list of streets that could be paved during the 2017 season.
"We plan on using the new asphalt zipper this summer when and wherever feasible and that will address more roads I'm assured then in previous years," said council president Eric Zadzilka.
"Therefore adding 3-5 more years to roads that aren't at the mill and pave critical threshold yet but need attention and repair. We did roads not even on the list last year that we didn't think we could get to."
Mayor Pappas' Administrative Assistant Peter Drossos added: "This is a Phase 1 review of all the roads that we have compiled that are of issue here in NT. This is not a finalized, detailed list of roads that are actually going to be done this year. This is just Phase 1 right now. There are going to be further deliberations on the list and whittled down to a list that is actually going to be done at a later time. This is a master list. This is Phase 1 and additional phases are coming in at a later time."
(ABOVE CAPTION: Council members review the paving list for 2017 before last week's common council meeting.)