Jeffrey Glatz campaign announcement for NT council
Long time North Tonawanda resident, Jeffrey M. Glatz, formally announces his plans to uphold his seat as Alderman at Large on the North Tonawanda Common Council.
Jeffrey M. Glatz, retired Niagara County Manager, will run for the city-wide elected post, continuing his representation for all residents of the City of North Tonawanda. Mr. Glatz was unanimously appointed to the position at the NT Common Council meeting in February 2017, to fill the vacancy of Catherine Schwandt.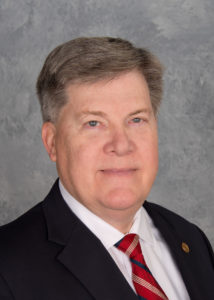 Glatz said, "I'm honored that the council displayed confidence in me to serve the residents of North Tonawanda as Alderman at Large. The community also showed its confidence when I was elected to the North Tonawanda Board of Education in 2007; serving one year as Board President before becoming County Manager. I look forward to continuing my service to the residents of North Tonawanda. I believe that our country is in the midst of a significant change and those communities that embrace these changes will succeed.  My experience and proficient leadership will benefit the residents of North Tonawanda."
Mr. Glatz has over 36 years of leadership experience between his employment as County Manager, Long Term Care Administrator, and Lieutenant Colonel in the United States Air Force. Throughout his career he has held leadership positions in the private sector, public sector and military. He's worked with all levels of government and understands the importance of a responsive, efficient and committed representative body to lead its citizens. He has developed fiscally sound budgets, successfully managed cuts in federal and state aid, and negotiated union contracts.
Glatz went on to list several other areas of coordinated government efforts he will pursue:
—  Support our Senior & Veteran Services through the Veteran's One-Stop Program; Meals On Wheels Program; and maintain Medicare and Social Security benefits for our seniors.
—  Continuing to move forward with community development funding opportunities, utilizing Webster Street successes as a template for new projects.
— Development of new missions for the Niagara Falls Air Base through his longtime membership on the Niagara Military Affairs Council (NIMAC) Board of Directors; which supports over 120 families in the North Tonawanda area that rely on the air base's continued success.
— Building upon relationships gained throughout his career to establish a dialog with all levels of government ensuring NT receives necessary services available to all residents, and assist with the improvement of the city's infrastructure.
Since 1994, Glatz has lived in North Tonawanda with his wife Susan and their two sons, Ryan and Eric.
Glatz, a registered Independent, is seeking the support and endorsement of the Independence, Republican and Conservative Parties for the upcoming November election.