Politics getting personal on Lockport's split council?
O'Shaughnessy filing ethics complaint over mayor's circulated letter. Rick Abbot and Lockport Democratic Party going separate ways.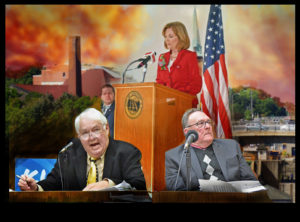 It's been a turbulent seven days in Lockport's political scene.
Starting when Mayor Anne McCaffrey circulated an unsigned letter last week to the city council that left Joe O'Shaughnessy seeing red and vowing to file a complaint with the city's ethics board.
Then yesterday — one day after another split vote regarding the city's ongoing ambulance service issues — Lockport Democratic Committee Chairman Roger Sherrie released a statement regarding Rick Abbot, who ran two years ago in the 5th Ward as a Democrat. Along with Anita Mullane and O'Shaughnessy, many expected Abbot to help shift the council's power away from McCaffrey's administration.
As anybody paying attention knows, that hasn't happened.
"Rick Abbott duped voters in the 5th Ward into thinking he was a principled Democrat when he is not," Sherrie said.
For his part, Abbot said he sent Sherrie a letter on Monday telling him he would be seeking re-election in 2017 but would not be seeking the endorsement of Lockport's Democratic Party.
"Some of the stuff in the press release was not accurate," Abbot said.
While he didn't want to get into details about his re-election campaign or the particulars of Sherrie's release, Abbot referred back to the words of John F. Kennedy he cited during his swearing-in ceremony speech at the Palace last year.
'Let us not seek the Republican answer, nor the Democrat answer. Let's make the right answer. Let us not seek to fix the blame for the past, let us take responsibility for the future."
Still, Abbot has raised eyebrows during the past year for not voting with his Democratic colleagues.
"In 2015, Lockport voters overwhelming booted incumbents out of office after a decade of kowtowing to the mayor and party power brokers," Sherrie said. "Voters wanted transparency and accountability in their government and they thought they had it with the election of 3 democrats to the Common Council."
"McCaffrey knew from day one her heavy-handed administration was in trouble; so Republicans set out to undermine support for Democratic reforms and they found a willing accomplice in Rick Abbott," he said. "I was shocked right after the election, when he told me of his plan to ask McCaffrey to be her Council President. Instead Abbott was appointed Chair of the important Personnel Committee where he has major influence over civil service, city hiring and control of whether union grievances get settled or appealed."
"Democrats will have a strong candidate for 5th Ward Alderman in 2017; someone who believes in proper oversight of the Mayor and re-establishing the Council as the voice of the average voter; not someone involved just to feather their own nest."
Sherrie's statement dovetailed from McCaffrey giving copies of an unsigned two-page letter to council members last week that described Joe O'Shaughnessy as "despicable" and a "fear mongerer" as well as other disparagements for his role in attempting to return the ambulance service to the city's firefighters. The letter was accompanied by one positive testimonial for Twin City Ambulance for the council's consideration.
McCaffrey said at Wednesday's common council meeting that she left the name off the letter because "he feared retribution."
"The letter claims I make scary statements and that I am unqualified and stoop to tactics unacceptable for a sitting alderperson," O'Shaughnessy said.
"By any standard, this is one of the most unprofessional acts by this mayor," he said Wednesday.
"I'm here for the benefit of the city and the council," he said. "And I will not dismiss my duty as an elected official or be strong-armed."