Austin Tylec announces candidacy for N.T. at-large alderman council seat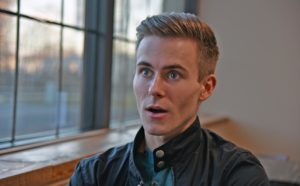 In November, will North Tonawanda residents usher in the next generation of involvement, leadership and vision in the Lumber City, granting a seat on the council's dais to Austin Tylec?
Tylec is 24 years old and he's an architect at Clark Patterson Lee in Buffalo. He's also an NT native who took advantage of the high school's inaugural architecture/engineering academy and now wants to move his hometown forward by getting involved sooner-rather-than-later in city governance.
"I want to create a real transparency, an open government where we take ideas — not just saying 'yes' or 'no' to everything — and get a better result from it," Tylec said. (For instance, he asked why the city still hasn't posted the tax rate on its website?)
In additional to his professional duties dealing with other municipalities' architectural and planning projects, Tylec has been active with the Oliver Street Merchants Association. 
On Saturday at Witter's Sports Bar and Grill, where he announced his candidacy, Tylec hosted a Seinfeld trivia night that netted one of the largest takes in the group's series of "cash mob" events. (The goal is to raise $20,000 to assist in receiving more grants awarded to the iconic street, which he said should represent the second wave of NT's recent development.)

"We're going to become a force in the city," he said of Oliver Street.

Tylec says it's time to build up and strengthen areas of the city other than the waterfront and Webster Street, which should now be able to sustain itself, he said.
"I want to create a network between the landmarks in North Tonawanda," he said while sitting in Platter's Chocolates new factory and cafe on the edge of the city's 3rd Ward.
He says a longer-term approach to planning is needed in the city. "We should be looking down the road 30 to 40 years," he said.
Tylec is the son of former Niagara County Legislator John Tylec, who ran twice to be NT mayor, and was personnel director for the North Tonawanda School District for 32 years.
So Austin Tylec grew up around politics and understands the dynamics of the city's involved citizens.
But he's hoping to expand that considerably with a new wave of younger citizens and others that have been shut out and discouraged from participating in city governance, he says.
Tylec's also ready to work with the current council, who selected him among the nine applicants recently chosen to be interviewed for the open seat vacated by longtime council member Catherine Schwandt and provisionally filled until the November election by former Niagara County Manager Jeffrey Glatz.
"It's exciting for me to be giving back to the city," he said. "And I will do everything in my power to continue the growth here."