Niagara County is now being fed a diet of "junk news"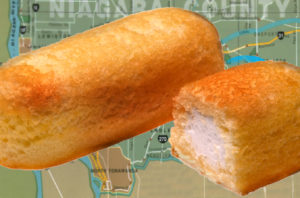 Lately, we've heard a lot about "fake news" and "alternative facts."
But there's another type of dubious journalism that's not even in the vernacular yet.
I'm talking about "junk news," and we get too much of it in Niagara County, served to us by the corporate media at the expense of issues that are being kept in the dark — stories that might actually advance the status quo in Niagara Falls, North Tonawanda, Lockport, Wheatfield and everywhere else in Niagara County.
So instead of news coverage the establishment media doesn't want you to see, we get served up plate after plate of arrests, house fires, DWIs, extended coverage of lurid court cases, and the list goes on …
Why does this matter? Because the reporter you thought you were getting with your subscription to the local newspaper — or employed by the TV news station — is actually only half a reporter at best. The other half is a "junk news" reporter offering stories that face it, if you didn't know about it, wouldn't really matter. You might even be even happier and better off.
In the case of "crime reporting," it's a sub-category of journalism that itself could be considered a crime, when guilt is presumed before innocence and arrests are published before a trial. Newspapers and TV stations are only too happy to provide that dubious service when it comes to ratings, sales and clicks.
There has to be a better way to balance the public's need to know about crime than leaving it up to the hands of the media, which has just been branded by our new president as "The Enemy of the People." And one of the human tragedies of the 24/7 news cycle is that we seemingly know about every tragic event that happens everywhere in the world; this takes a toll on the psyche.
So instead of "junk news" what Niagara News Source specializes in is stories that aren't getting ink, airtime, or bandwidth elsewhere, those outlets featuring a menu of high-carb news, which also includes sports — a huge consumer of media resources — and really should just be considered "entertainment coverage." 
And there's a very long list of issues, groups, projects and ideas that are being ignored in Niagara County. Some of my best stories so far — and most viewed — have been from people who reached out to me after being stonewalled or misrepresented by the corporate local media. I only expect this trend to continue as Niagara New Source's reputation for professionalism and fairness becomes even better known amongst the various communities of Niagara County.
For instance, when Don Paul pitched a $50 million weather experience center in Niagara Falls to the city council, talking about a Blizzard of '77 simulation room complete with vintage cars and storefronts as well as towering snowdrifts and a climate-controlled room and and snow machines, being a Blizzard of 77 aficionado, I knew I had to write about this project.
I also had a sneaking suspicion the other reporter present probably wouldn't.
The Buffalo News reporter wasn't even there that night; a situation that's becoming increasingly common at council meetings across Niagara County. It's a sad state of affairs, but often I'm the only reporter at these meetings that should be covered by at least 3 or 4 reporters.
One of the other ways my approach to news differs from the establishment media is that I often post transcripts of the events or presentations so you get the entire experience, no cherrypicking by the reporter. I believe this is the future of a kind of journalism and transparency in government. Newspapers can't do this because of space limitations, and the nature of television is to reduce every subject to the smallest, simplest terms possible because of time constraints. So another 'no' there.
I also enjoy conveying the true feeling of a public meeting, like the Niagara Falls Water Board story I just published. As far as I could tell, there was no other media in the room. Consider that as you read the reports offered by The Buffalo News, The Niagara Gazette and several of the local TV stations.
What my news service brings to Niagara County is another viable media option for people to get their story out as well as an independent voice that can't be shut down because of a corporate or political agenda.
All these stories need to be told and the making of local government more transparent needs to be hastened, and there just aren't enough independent professionals here involved in that hastening process.
This is a conversation about moving forward the status quo in Niagara County — and that should involve everyone — not just those who have subscriptions to The Niagara Gazette or The Buffalo News.
(By the way, Niagara News Source is free and not supported by advertising, which always creates opportunities for conflicts of interest.)
With the prevalence and dominance of placating, focus-diverting "junk news" in today's media scene, taking away bandwidth from more worthy subjects that some would rather stay in the dark, I'm proud to present my almost old-fashioned approach to news that emphasizes accuracy, fairness and presenting an array of opinions that lets the readers draw their own conclusions instead of being told what to think.