Ambulance service can make profit for city, Alderman says; will introduce resolution to end litigation against LFD
"I'm the Alderman at Large and I have no idea how much this is costing us," says Joe O'Shaughnessy.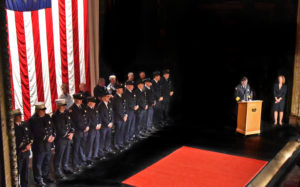 It's time to stop.
That's the opinion of At-Large Alderman Joe O'Shaughessy, and he will introduce a resolution at the city's Nov. 16 common council work session to stop the city from pursuing an appeal to a recent decision by the Public Employment Relations Board.
"This week, the decision came back essentially restoring the work of the ambulance service to the city's fire union," said Mayor Anne McCaffrey.
When the city council in 2014 voted to use Twin City Ambulance instead of the firefighter's own service, its contract was broken and the law violated, according to a recent decision by PERB.
"I think it's time to stop — and move forward — and stop paying all this money to Mr. Goldberger," O'Shaughnessy said, referring to the Albany law firm hired to stop the city's fire department from providing ambulance service.
"We already have three attorneys on staff and we're hiring somebody from Albany," O'Shaughnessy said.
Lockport's contract with Twin City Ambulance expires Sept. 15, 2017. The company must be notified by June 30, however, if they are going to be replaced by another service, he said.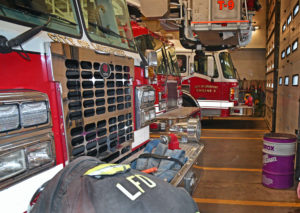 While Alderwoman Anita Mullane said it would be costly to reintroduce the fire department's ambulance service, if done right, it could pay for itself.
O'Shaughnessy went even further.
"Nobody is looking at is the revenue we can make," O'Shaughnessy said. "The reason why the rescue service was eliminated is supposedly because it was costing the city X number of dollars. The reason it was costing X number of dollars was because the billing wasn't on time and the charge costs were not accurate; they were way too low. Twin City has come in here with two ambulances, and they came in here to make money."
"There is no reason why the City of Lockport can't make money," he said.
"It's not good for the city. There's no end in sight to resolving this situation. It's gone on two long years. We have no conception how the litigation costs are."
"I'm the Alderman at Large and I have no idea how much this is costing us."
"We have also asked for a full accounting of what's been spent to date on this litigation," Mullane said. Aldermen Joe O'Shaughnessy, Mark Devine and Joe Oates have also filed requests, she said.
"We also deserve a true report on the response times on the calls," said Mullane. "Somebody just called me today very upset about an incident that happened with Twin City."
At Wednesday's common council meeting, Mayor Anne McCaffrey caught some members of the council off guard when she announced the city's intention to appeal the PERB decision.
"As you may recall in 2014, the city was faced with a serious financial crisis and was addressing a structural budget deficit," said McCaffrey.
"At that time, the common council, fire board and I reviewed our options regarding ambulanceservice. Ultimately, we decided to get out of the ambulance service. We have worked very hard to get our city back on solid financial footing and we've done that. We are financially stable and our residents have a reliable ambulance service."
"I'm also meeting with the union and will continue to discuss our options," said McCaffrey."And because it's a matter for litigation, I'm not at liberty to say much more than that."