Lockport gives $82,959 to Niagara USA marketing group; what's it getting back?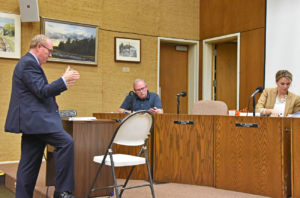 John Percy, CEO of regional marketing organization Niagara USA (left in above photo) recently appeared before Lockport's city council to provide a report on the area's tourism numbers from 2015.
"If tourism was not in this county everyone would be paying an additional $841 per household," said Percy.
"With that, we are the highest of the five counties in the Greater Niagara region. So Erie, Niagara, Orleans, Wyoming, we are the highest in reduction of the tax burden. In the other counties, I think, the other highest is a little over $500. We are at $841. Last year, it was $761; so we continue to see that number rise."
The City of Lockport gives Niagara USA $82,959 from the bed tax it collects. The City of Niagara Falls gives $1.74 million of its bed tax while Niagara County's portion is $118,451. (The City of North Tonawanda does not contribute financially to Niagara USA, mainly because the city does not have many hotel rooms within its borders, said Michael Zimmerman, who's director of Lumber City Development.)
By New York state mandate, Lockport is required to earmark 75 percent of its collected bed tax toward tourism, said councilman Rick Abbot.
Percy said Niagara USA's 2015 report was delayed because he was waiting for some tourism numbers from the state.
"Niagara County employs over 14,500 people, making up 20 percent of the total workforce," he said. "We are the second largest industry outside of agriculture."
"It's a pleasure to have the mayor serve on our board of directors. She is there, and so is Brian Smith. There is always someone from Lockport present on the board of directors. We meet every month. It's a pleasure to have you on our board always. It's a pleasure to have you at the helm period. Thank you so much."

"Travel writers are really big. We want them to write about the entire destination not just Niagara Falls. So that's very important."

"And tour operators. Motor coach operators. We have a motor coach van in June that was very successful. We had them on the boat, in the caves. We are always in Lockport. I wish an alarm would sound off every time we cross the city line so people would know we are in the community. A lot of times we get so busy we fail to even tell you in the community. So we are always, always out here."
"Thank you for your support. Your contract is invaluable to us. We love our partnership with you. It's important that we keep that and continue. You're one of three entities that support our organization. With our contract the City of Lockport, the City of Niagara Falls and Niagara County. All three of you are vitally important to our success and our future. So thank you for that partnership."
Council president David Wohleben asked: "We've seen a drop in sales tax over this past year. Are you seeing that in the Falls?"
Percy: "I've heard that sales tax has leveled off a little bit. I do think even the Canadians get out this far. And I think having that Canadian drop off is significant for all of us."
City of Lockport Mayor Anne McCaffrey: "What are you seeing at the outlet mall. Is that down?"
Percy: "It's way down. Double digits. They are having a tough time."
McCaffrey: "And that directly impacts us because that sales tax to the county that comes from the city."
Percy: "I heard it's starting to level off. It takes about a year to get that to level off. We've had that Canadian drop off for over 18 months. Almost 24 months with the exchange rates. So I think you are going to see that level off a little bit. "Believe or not, but the sales tax and the sales generated out of that mall are significant. But not only there but Wal-Mart and Wegman's and all the stores on Military Road and Niagara Falls Blvd. And all those stores are significantly impacted by that Canadian exchange rate."

Percy: "We are still seeing people come over. They may have the same stores, and we knew that would take some to filter out. But a lot of the same stores in the outlet mall in Canada, the new one. But the prices alone are 17-24 percent higher, and then you have 17 percent GST. So you're looking at 34-48 percent higher n the same item. So they are starting recognize that and filter back."
"When you look at Canadians. What more can we do to showcase other products? In our research, all they care about in Niagara County is shopping, dining and maybe staying."
McCaffrey: "They aren't here for attractions?"
"They could care less," Percy said. "They have have a lot of the same. They have locks. So they don't need locks. They have the Welland Locks. They have a fort; we have fort. So there's a lot of duplicate product. So they don't need to come over for that experience.
"On the expense side, if you add up those 67.8 percent spent on sales and marketing efforts altogether," Percy said. "Almost 70 percent. I know sometimes people question we have big salaries over there. 'John Percy gets paid a lot' and everything else. Only 27.8 percent is spent on personnel. Most destination marketing organizations have an average of 40-42 percent. We fall below 30 percent. We have been able to keep it below 30 percent and we are at 27.8. We even keep our general administrative expenses low at 4.4 percent. Tat's 100 percent of the expenses that you see there that are broken line by line very simply on that financial page."
"Looking ahead, we are launching a new brand that we will all be a part of. We hope you become part of the brand and be a brand ambassadors for all of us. Its not a brand for this organization but a brand for the whole destination."