Watchmen studio's Lockport location fits nicely in the mix
Due to the explosion in home-based "project studios" and all the competition from professional recording options in Buffalo and Rochester, you'd be excused if you thought Watchmen Studios on Snyder Drive in the Town of Lockport might be having a rough go of it these days.
"Actually, home recording has increased my business contrary to popular belief," said Doug White, owner of Watchmen Studios.
He said it's the big, multi-million dollar studios that have suffered the most since the digital recording revolution has given almost anyone with a PC or even a smartphone the ability to lay down tracks that theoretically can sound great. "Mariah Carey, U2, they've all bought their own studios," he said. "It's the mid-level studios that still survive."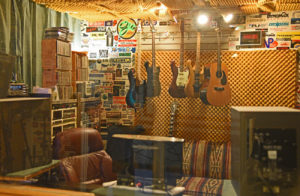 In many ways, White is a teacher in the studio for the seemingly endless groups of musicians that come to Watchmen Studios.
"With home recording, they get to a certain stage and they need help."
With more than 4,000 bands and artists having recorded at the location, they'd be in good company if they availed themselves of White's surprisingly affordable services.
When entering Watchmen Studios, one is greeted head-on with a "rock band" vibe that belies even its 20 years of existence in the back of the Lockport Music School building.
Originally, White's studio launched in the basement of his parent's house after he returned home to Western New York from The Art Institute of Atlanta with an associates degree in audio engineering and music management.
There's a faint whiff of tobacco and about a million stickers on the walls — including Gym Class Heroes and The Bunny and The Bear — of the bands that have recorded in the fairly intimate studio.
There's a mastering room, a room for recording vocals and various solo instruments, a central area for storing equipment and the control room, where you'll find the audio hardware, various sets of speakers and of course the control board.
"We aren't equipped for the BPO, but for basic rock bands it does the trick," said White.
Once inside the studio, you could be anywhere, but White said the Lockport location has been a boon.
Close enough to Buffalo as well as Rochester, which also has a vibrant music scene.
"I split the difference between Rochester and Buffalo. If I had to rely on Buffalo business alone I'm not sure it would have been enough."
He also gets clients from Erie, Pa., Syracuse, Binghamtom and Ithaca as well as places as far away as Arizona.
"The band from Arizona recorded here because of Gym Class Heroes. Period."
White runs a strict 10 a.m. to 6 p.m. studio schedule.
"It weeds out some of the clowns."
The name of the studio comes from White's old band, The Watchmen, who disbanded.
But the studio they assembled to record their music lives on as a pro place to lay down your tracks.