Wheatfield residents proving a yellow can *can*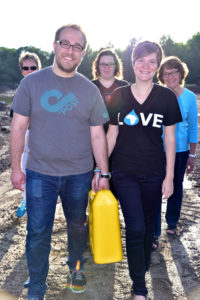 It's called a Jerry can, and several Wheatfield residents will be carrying them filled with water on June 20 at Beaver Island State Park in a show of solidarity with residents of Mono, Sierra Leone.
People there carry these five-gallon containers — modeled after the German gas canisters from the 1930s — on an average of 26 miles to get to fresh water.
"We will stand with our community against this injustice with hope," said Wheatfield resident Katie Brooks.
"Every day 4,000 children die because of preventable illness caused by lack of clean drinking water," she said.
She and others from a group founded in Western New York install and maintain wells and pumps in the West African country of Sierra Leone
"I have splashed in the spray of LTLOL pumps funded by Buffalo neighbors, providing the lasting gift of clean water to hundreds of communities bursting and singing with grateful hearts," she said.
Since joining the organization in 2012, Brooks has travelled across the Atalntic Ccean to Sierra Leone three times — the most recent being in April after the Ebola crisis abated
"Water is life," she said. "Clean water is a basic human right. Without it, hygiene is not possible, and disease runs rampant, preventing the survival of the most vulnerable — children — and crippling a community."
Brooks became involved with LTLOL when she was fresh out of college three years ago.
"As a favor to my dear friend Nick, my boyfriend  — now fiancé — Peter and I attended an event recapping Nick's recent trip to Sierra Leone, West Africa, with this local nonprofit. I have to admit, I had no intention of getting involved, virtually no money to donate, and no idea what we were in for. I did not know my story could connect with a community nearly 5,000 miles away but I was blown away at how similar they were to my own neighbors and family members."
Members of her family, including her mother Josephine, will join Katie as well as an anticipated 200 other people next Sunday at Beaver Island State Park on Grand Island. Registration for the event starts at 9 a.m., and the walking commences at 11 a.m., with a one-mile walk and one that spans four miles. An after-party will take place featuring food and other community-building activities.
Brooks said she never saw herself becoming an activist for water access but continues because of all she's seen and the positive impact from her efforts. The issue is so important to Katie and Peter they are donating their wedding proceeds to LTLOL.
"The whole theme of the event will center around clean water. Even my engagement ring is a drop shape to represent how this is so much a part of our story," she said.
"Without clean water your only option is to find ways to survive and the odds are stacked against you. But with that basic resource everything begins to change. You cannot move toward development until you're healthy. Without access to a central well, Women and children spend most of their day fetching water — think cooking, washing, bathing, cleaning, bathroom, and drinking — which prevents kids from attending school to gain the resources to stop the cycle of poverty."
For more information visit greatwaterwalk.com.